Dr. Claudius Terkowsky:
Labordidaktik in the making. Erforschung eines Desiderats der ingenieurwissenschaftlichen Hochschullehre
Dr. Miriam Schmitt:
Success factors of women's careers in STEM professions
Dr. Sabine Lauer:
Transformational Governance of Academic Teaching
Dr. Kalle Hauss:
Die wissenschaftliche Konferenz: Theoretische Reflexion - empirische Rekonstruktion
Dr. Isabel Roessler:
Haben Hochschulen für angewandte Wissenschaften das Potential, Mode 3 Universitäten zu werden?
Dr. Christian J. Schmid:
Die soziale Organisiertheit und Organisierbarkeit von Interessen(Freiheit) - Der Fall der managerialen Governance akademischer Lehrtätigkeit
Dr. Julia Teichmann:
Organi­sations­strukuren und Wissenstransfer bei Lösungsanbietern
Dr. Patricia Heufers:
Lebenslanges Lernen als gelebte Wirklichkeit(en). Rekonstruktion berufsbiographischer Orientierungsmuster
Dr. Daniela Schmitz:
Alters- und Generationenbilder im intergenerationalen Wissenstransfer. Die soziale Konstruktion von Wissenstransfer aus der Akteursperspektive in einer wohlfahrsverbandlichen Organisation
Dr. Heike Fischer:
Motivational Dynamics of Education in Indian Society. A Socio-Cultural Exploration
Dr. Grit Würmseer:
Identitätswandel von Hochschulen
Prof. Dr. Rüdiger Piorr:
Rückkehrgespräche - Chance für geringe Fehlzeitenbei gleichbleibender Arbeitsleistung?
Dr. Doris Blutner:
Kontrafakt Innovation. Eine sozialwissenschaftliche und kontrafaktische Analyse innovativen Handelns.
Location & approach
The facilities of TU Dortmund University are spread over two campuses, the larger Campus North and the smaller Campus South. Additionally, some areas of the university are located in the adjacent "Technologiepark".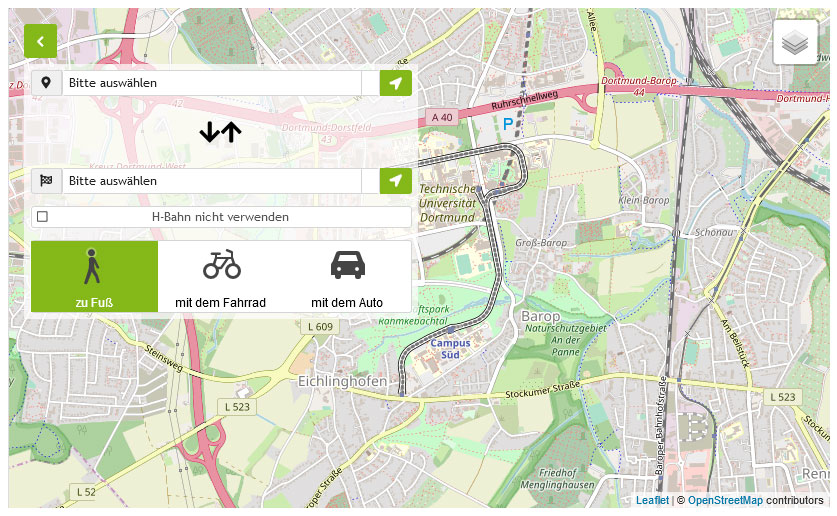 Zum Lageplan