The voice teacher Heinke Kirzinger has been working at TU Dortmund University since 1996. At the Department of Music and Musicology, in addition to her singing class, she regularly held seminars on the topic of "Singing in School" for the Department of Music Education. Since 2013, she has directed the TU Dortmund University Choir. In September 2019, she relocated her professional focus to the Center for Higher Education. Here, she leads PerSona - the vocal space for vocal personality development at TU Dortmund University. As part of this work, she develops training formats for members of TU Dortmund for optimized voice use. These trainings can then be adapted and implemented with different cooperation partners for specific target groups.
Didactics and methodology of singing with children, teenagers and adults
Voice and body language communication
Voice and speaking technique
Presentation technique
More Information about Heinke Kirzinger
Bundesverband Deutscher Gesangspädagogen (BDG)
Arbeitskreis Musik in der Jugend (amj)
KulturInitiative Kinderstimme Kinderlied e.V. (KIKK)
Career
2019 – Head of PerSona, vocal room of TU Dortmund University
2013 – today choir director TU Dortmund University Choir
2012 – 2020 Direction Open Singing in the Fun2Teach-Learning Workshop, TU Dortmund University
2012 – 2019 Children's voice training in the protestant parish Berghofen
2011 – 2014 Choir Director Women's Choir "Frauenklang", TU Dortmund University
1996 – 2020 TU Dortmund University, Department for Music and Musicology
Lecturer for singing/voice training
Since winter semester 10/11 lecturer for "Singing with children and adolescents"
1996 – today Freelance singing teacher and singer, trans-regional speaker
Voice and speech technique, individual and group training, choir coaching sessions
1992 – 1996 Music school Castrop-Rauxel, teacher flute/vocals
1990 – 1992 Music school Jellinghaus Dortmund, teacher flute
1985 – 1988 Municipal music school Flensburg, teacher flute
Education
2010 - 2012 Osnabrück University of Applied Sciences, Department for Music and Musicology, Master of Arts (M.A.)
1989 – 1998 Detmold University of Music, dept. Dortmund
05/1993 vocal pedagogy, graduate music educator
04/1998 Artistic maturity exam
1998 – 1999 Penn State University, Pennsylvania, U.S.A.
Teaching Assistant/Non-Degree Master Student Music Performance
Fulbright Stipendium
1983 – 1988 Flensburg University of Education
Secondary school teaching (Music/English), 1. State Exam
Location & approach
The facilities of TU Dortmund University are spread over two campuses, the larger Campus North and the smaller Campus South. Additionally, some areas of the university are located in the adjacent "Technologiepark".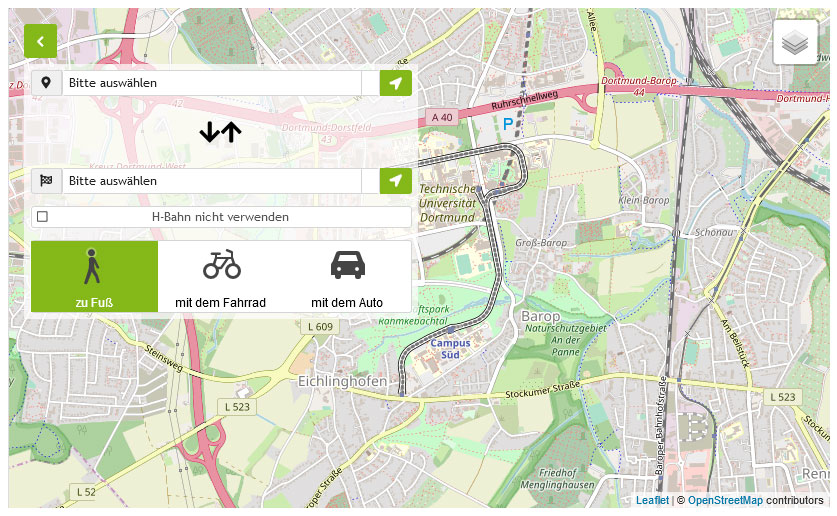 Zum Lageplan