Advancement through Education: Open Universities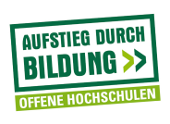 In 2008, the Federal Government, together with the Länder, launched the "Advancement through Education" competition with the aim of increasing educational opportunities for all citizens. The joint Federal Government-Länder Competion "Advancement through Education: Open Universities" is part of this qualification initiative.
In the second funding period from March 2016 to December 2020, on behalf of the Federal Ministry of Education and Research (BMBF), a consortium chaired by the FernUniversität in Hagen (University of Hagen), together with the Carl von Ossietzky University of Oldenburg, the TU Dortmund University, and the Center for Higher Education (CHE) conduct a research project accompanying the qualification initiative. 73 university projects which either aim at promoting innovative scientific training or intend to open up for non-traditional students are given advice and application-oriented scientific findings for a prosperous organization of the transparency of work and study.
Under the project leadership of Prof. Dr. Uwe Wilkesmann, TU Dortmund University is investigating the following research question: When and why are professors willing to engage in teaching for continuing higher education or lifelong learning with new target groups, even though this means extra work and requires new teaching styles?
Specifically, what forms of teaching motivation can be identified and what organizational conditions are necessary to evoke them? In addition, the question of when the funded projects have potential for continuation will be investigated. Likewise, international best practice cases will be identified and relevant research results will be prepared for the projects.
Further information can be found on the website of the accompanying research.
Project Period: 01.03.2016 to 31.12.2020