UnSicht - The Invisible Aspects of Quality in Science

Research success, which is usually measured and made visible by the number of publications and the amount of third-party funding raised, has been well researched in higher education and science studies. By contrast, one topic about which little is known is the invisible and "hidden" side of scientific production: How often did journal submissions have to go through minor or major revisions? And how many were rejected? How many applications for external funding were submitted and how many rejected? And how were such supposed failures dealt with? This is exactly what we are investigating in more detail in our project "Unsicht—Die unsichtbaren Aspekte der Qualität in der Wissenschaft" (UnSicht—The Invisible Aspects of Quality in Science).
As these scientific outputs usually require teamwork, chairs or working groups at state-controlled universities in the subjects of biology, business administration, and mechanical engineering are considered as object of study. Of particular interest is how the organization of the chair/working group influences the scientific production process, focusing on the following factors:
group size and segmentation
leadership behavior of professors
staff recruitment
In addition, another hidden aspect to be considered are the peer review activities of professors: To what extent is this service to the scientific community, which contributes significantly to the definition of scientific quality standards, perceived as an obligation or a burden? And how much time (at the expense of their own research activities) is invested in it?
To answer our research questions, we follow a two-stage mixed-methods design:
In the first stage, problem-centered interviews will be conducted with selected chair/workgroup leaders, as well as group discussions with the respective chair/workgroup teams. In the second stage, all chair holders/work group leaders and scientific staff of the subjects biology, business administration and mechanical engineering will be interviewed in status group-specific (online) surveys on the invisible production and stress processes.
Project period: 01.11.2020 to 30.10.2023

Location & approach
The facilities of TU Dortmund University are spread over two campuses, the larger Campus North and the smaller Campus South. Additionally, some areas of the university are located in the adjacent "Technologiepark".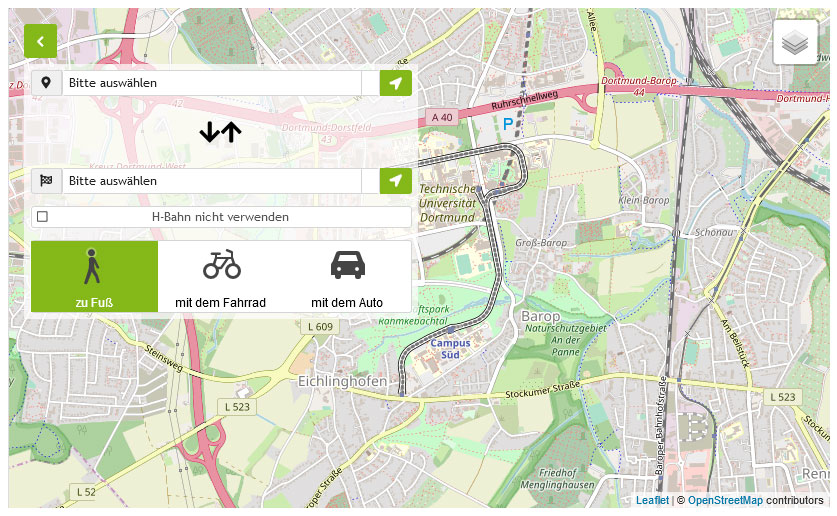 Zum Lageplan